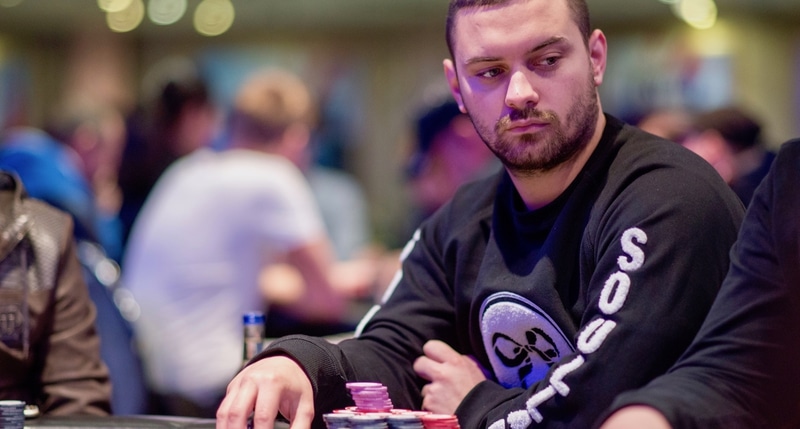 In 2016, Phil 'philroyal888' Mighall shared his delight in a PocketFives interview after entering the top ten of the World Rankings for the first time while lamenting his lack of a big win.
"I have a lot of results, but not significant wins," Mighall told his interviewer. "I mean a big title. The Warm-Up win was big, but I mean a prestigious title like a SCOOP event or WSOP bracelet or an EPT win. I came very close during this year's SCOOP to taking a tournament down."
Now, I am sure that when Mighall went through his list of big titles, a World Poker Tour (WPT) title must have slipped down the back of his mental sofa. Because, as we all know, it's a big deal, and right now, because he has just won one, Philip Mighall is also a big deal.
Mighall took down the 1,011 entrants $10,300 World Poker Tour (WPT) World Championships Main Event for a whopping $1.5m in prize money after cutting a heads-up deal with Teun Mulder. The win cements Mighall's place in the WPT Champions Club and nets him a seat in the Tournament of Champions.
But who cares about that stuff?
$1.5m!
That's what I call a 'significant win.'
Here was the picture at the starting blocks.
Final Table Chip Counts
Damian Salas – 37,041,854
Philip Mighal – 34,700,063
Akseli Paalanen – 26,271,276
Blaz Zerjay – 24,168,634
Victor Simionato – 20,057,907
Teun Mulder – 19,652,002
Dzmitry Urbanovich – 18,333,036
Laszlo Molnar – 11,542,750
Bert Stevens – 10,432,478
The Nutshell Action
Laszlo Molnar was the first person to climb into his grave.
With blinds at 250k/500k/62.5k ante, Salas opened with Ah7s in the hijack position for a cool million. Molnar three-bet from the button, shifting half of his stack across the virtual line (4m), holding AdJc, Victor Simionato raised to 7m from the big blind, holding pocket jacks, Salas folded, Molnar moved all-in, and Simionato called. The board offered no solace to Molnar who left with $127,386 whizzing towards his bank account.
Simionato became a serious contender when he eliminated Paalanen in eighth place. With blinds the same as above, Mulder opened to 1.1m holding AdQs, Simionato raised to 3.8m holding pocket queens in the small blind, Paalanen moved all-in for 22.6m from the big blind holding AsKs, Mulder ditched his hand, and Simionato called and held.
At the first break, Simionato was the new chip leader.
Bert 'Girafganger7' Stevens is one of the best in the business, and the table would have been glad to see him hit the rail in seventh place. With blinds at 300k/600k with a 75k ante, Stevens moved all-in for 15 bigs holding QcTh in the small blind, and Zerjav called and won with As5h in the big blind.
From one of the best online players in the business to one of the best in the land of bricks and mortar, and with blinds at 300k/600k and a 75k ante, Salas opened to 1.2m from early position, holding pocket sevens, Mulder called on the button with AsQd and Urbanovich raised to 7.2m (leaving 3.4m behind) from the big blind holding AhKc. Salas folded the sevens, and Mulder looked him up. Urbanovich was in great shape to double-up only for a second queen to land on the flop sending the Pole packing.
At the second break, Philip Mighall led the final five players.
The one-time leader, Simionato exited next.
With blinds at 350k/700k and an 87.5k ante, Zerjav limped into the action from the small blind holding Ac3s and called a 2.5m raise from Simionato from the big blind holding QcJh. The virtual dealer planted 9c5h2c onto the flop, and Zerjav check-called a 2.9m Simionato c-bet. The Kh hit the turn, and the same action ensued, this time for 6.9m. The 4h hit the river to hand, Zerjav a wheel, and all the money went in on the river. Simionato had chip dust and busted in the next hand.
Chip Counts at the Break
Phillip Mighall – 79,485,094
Blaz Zerjav – 59,685,094
Damian Salas – 33,390,504
Tuen Mulder – 29,638,638
With blinds at 600k/1.2m and a 150k ante, Zerjav moved all-in for 13.5 bigs holding pocket sixes, and Mighall woke up with pocket kings in the big blind to take a three-handed lead.
One level up and Mighall got it in with pocket treys in the small blind and won the race versus the KsQs of Salas to set up a heads-up confrontation with Teun Mulder holding a 3:1 chip lead.
Mulder fought back to take the chip lead.
Mighall ripped it back.
Then this happened.
With blinds at 700k/1.4m and a 175k ante, Mulder flopped a set of aces on AdJh9s only for Mighall to hit a gutshot straight on the turn holding Ts7d. The money went in on the river, and Mighall, not Mulder, saw his name etched into the 'Mike Sexton WPT Champions Cup.'
Final Table Results
Phillip Mighall – $1,550.298*
Teun Meulder – $1,396.968*
Damian Salas – $814,663
Vlaz Zerjav – $552,006
Victor Simionato – $391,257
Dzmitry Urbanovich – $277,014
Bert Stevens – $194,112
Akseli Paalanen – $153,672
Laszlo Molnar – $127,386
*Indicates a heads-up deal